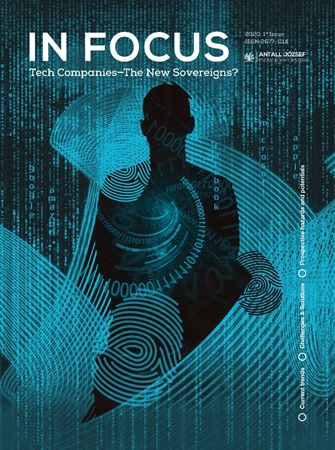 In Focus: Tech Companies—The New Sovereigns?
Az elmúlt évtizedekben az emberek nem kevés lelkesedéssel tekintettek az innovációra és a technológiai fejlődésre, mivel úgy gondolták, azok az élet minden területén pozitív irányú változásokat idéznek majd elő. Mára viszont megfordulni látszik e trend, hiszen a mindennapjainkat egyre jobban átitató technológiai vívmányokat mind többen kezdik éles kritikával illetni. Bár a technológiai haladással szembeni kritikus attitűd semmiképpen sem tekinthető új jelenségnek, bizonyos kérdéseket újra meg újra fel kell vetnünk annak érdekében, hogy a jövőnk úgy alakuljon, ahogy azt ténylegesen elképzeltük magunknak.
Lapunk következő száma, az In Focus—Tech Companies: The New Sovereigns? több ilyen kérdésre is igyekszik választ adni, miközben megvizsgálja, egyes államok, az EU, valamint a különböző szakemberek milyen javaslatokkal próbálnak előállni a globális technológiai vállalatok működéséből fakadó dilemmák feloldására, és mi várhat ránk a magát még csak bizonytalan körvonalakkal megmutató nem is oly távoli jövőben.
-
Over the last decades, we have lived in a period of abiding frenzy about innovation and technology making positive changes the world over. However, today, as it is increasingly permeating our life, technology also comes under trenchant censure on all levels of society. Tech criticism is not anywise a new thing, but these questions must be raised every now and then so we do not lose our grip on in what direction our future evolves.
Do technological companies make a positive change in our life or just snarl it up? Are Big Techs better and more efficient at organising our societies than traditional states? Are their global networks more relevant than relations among peoples administered by countries and governments? Who can protect us and our growingly invaluable personal data if state sovereignty is lost to businesses cutting through boundaries? Can big companies and all their money and capital crank up innovation anyway, or should we look elsewhere for it and do away with trusts and their overwhelming dominance?
In an attempt to answer the foregoing, our next issue, In Focus: Tech Companies—The New Sovereigns? expands on how states, the EU, or jurists try to address challenges emanating from the omnipresence of today's companies and use an alternative prism to look at business and innovation, while shedding some light on our uncharted future.
Vissza